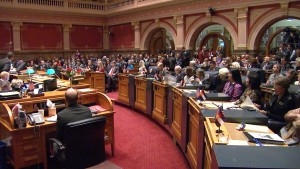 SB 14-155 was introduced to the Colorado State Legislature March 10th.
It seeks to use state funds to further "research" to promote the beneficial effects of marijuana.
This bill should not even see the light of day for at least the following reasons:
Section 1(b) of the legislation is not true. Coloradans will use marijuana regardless of the potential therapeutic effects of the weed – or its adverse consequences. They've already proven that. They don't need the state to urge them to use this plant.
Section 1 (c) of the legislation is fatuous. Adding additional conditions to qualify for a red card is clearly not needed. Anyone can get a card for almost any reason, for a mere $65, according to marijuana billboards. If they're not willing to do that, they can buy it on the open market. Or on the still-flourishing black market.
Section 1 (d) of the legislation is unlawful. The state health agency doesn't need this information at all, and it is flat-out illegal to prescribe marijuana. Marijuana is recommended by some physicians, not prescribed. That's because it is still an illegal substance under federal law, and no physician anywhere, Colorado included, can prescribe marijuana without risk to losing a license.
Section 1 (e) of the legislation, if true, has failed. There is absolutely no control of dosing in the medical marijuana program today. Is that the kind of "success" you want to build upon? 
Section 1 (f) shows a complete lack of understanding of federal law and how drugs are controlled, and why they are controlled the way they are. THC is currently available as an FDA approved medication – Marinol. It's even available as a generic version, Dronabinol. CBD, known to be beneficial in some cases of epilepsy, is coming to the market as Epidiolex. Sativex, a combination of CBD and THC is also on the market for prescribed conditions. These are all pure extracts of cannabis. Purity, known concentrations, and validated means of safe administration are absolute requirements to be labeled a safe drug. A plant like marijuana just doesn't qualify. No medicine is prescribed to be smoked. None. A plant may have medicinal qualities, but that doesn't make it a medicine, in spite of what the pot lobby says. Foxglove, for example, isn't a medicine, but its constituent digitalis is a mainstay of medicine. People that propose 1 (f) are not in touch with scientific reality.
Passage of this bill would further embarrass Colorado in the eyes of the rest of the world. At our caucus this month there was a universal expression of embarrassment now that Colorado has legalized marijuana. 
Colorado has enough needs to deal with as a result of passage of marijuana legalization that it shouldn't promote more use of this plant. Funds would be better spent on such areas as: ◦Treatment of marijuana addiction;
Means to keep marijuana out of the hands (and bodies) of those with minds still in their development phase (typically up to the mid to late twenties);
Education to keep children from being attracted to marijuana;
Traffic safety. This state has chosen to not even bother to measure the number of DUID citations issues annually! Much less, how many of them are for marijuana or marijuana combined with other drugs or alcohol;
Traffic safety. Tools and training to use oral fluid testing devices to detect drugs of abuse at the roadside;
Traffic safety. Education – marijuana impairment doesn't manifest itself anything like alcohol impairment. The symptoms are vastly different. But the effects on traffic safety are similar;
Workplace safety. New Mexico is now looking at the costs of workers comp insurance affected by marijuana use;
Company competitiveness. Companies are now increasing their testing to protect themselves from drugged employees. This can't help our competitiveness. Marijuana impaired employees that escape detection by all but the highly trained experts pose a threat to the quality of Colorado-manufactured products that require critical thinking in their manufacture.
Colorado should not support research to promote health effects of any business. The federal government has demonstrated the folly of government trying to pick winning businesses.