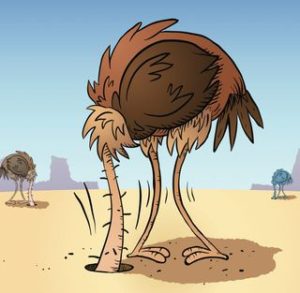 Colorado makes no effort to collect, analyze and publish DUID statistics in the state. The state's DUI reports cannot distinguish between causes of DUI, even though many law enforcement officers are trained to do so.
The ability to identify drugged drivers is especially true in the Colorado State Patrol (CSP) that typically writes 20-25% of the state's DUI citations. All troopers are trained in ARIDE (Advanced Roadside Impaired Driving Enforcement), which gives them more tools to identify drivers impaired by drugs than officers who have not received such training. The CSP also has the most Drug Recognition Experts (DREs) of any law enforcement agency in the state.
The CSP released its 2016 DUID data, based on evidence troopers find at the scene of an DUI arrest and recorded on the traffic stop form. This is the third full year CSP has collected and published such data, so trends are now beginning to emerge.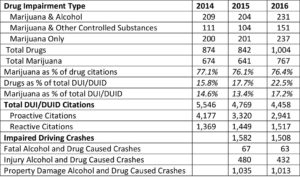 The total number of proactive DUI citations (from traffic stops based on an officer's observation of driving behavior) has continued to decline, and the number of impaired driving crashes dropped by 5% last year. The number of alcohol-based DUI citations has dropped by 25% in two years. That's the good news.
Unfortunately, the number of DUI citations based on drugs has risen by 15%. This means that people are still being pulled over for a DUI offence, be it for different reasons, and having to access legal advice for their charges (without this, their future could be tarnished). Although the alcohol cases have gone down, we should not be distracted by the fact that plenty of attorneys still have work on their hands due to drug DUI charges. All drug classes have increased: marijuana, other controlled substances, and alcohol and marijuana combined. As long as DUID cases remain so much smaller than DUI-alcohol cases, we can continue to see declining death rates while drugged driving continues to increase. But at the rate we're seeing now, it won't be long before the total DUI citations and DUI impaired driving crashes will rise. All drivers need to understand the complications of driving under the influence. It affects the ability to react, whilst also encouraging you to make dangerous decisions. It's not even just regular drivers that need to be reminded about DUI, some transportation workers have also been known to use these substances on the job. Not only is this irresponsible, but it is also extremely dangerous as these larger trucks could cause a lot more damage. Recently, trucking industries have been trying to increase compliance amongst their drivers to ensure these sorts of incidents don't happen. By introducing the fmcsa clearinghouse, transportation companies can receive real-time updates of any alcohol or drug violations, ensuring that they can get their drivers off the roads immediately. This aims to reduce the number of truck accidents caused by illegal substances. Even with truck companies taking this more seriously, there will still be other drivers who ignore the law, increasing the number of potential accidents. There are two ways that you will be involved in a crash like this. You will either, unfortunately, be the victim, or you may be the person who is driving under the influence and has caused this incident. If it's the latter, then it could be important to your future that you have a look into having a criminal attorney free consultation with your local law firm so you know what the next steps will be in your case. With all of this in mind, and the accidents that can occur from impaired driving, is it time for the state to do something?
Perhaps that will change the drugged driving apathy that permeates our state today. Sgt. Rob Madden of the CSP kindly provided the above data to us. Unlike past years, this information has not been released publicly because, as Sgt. Madden says, "We're just not getting as much interest from people in DUID data now that marijuana has been legalized for so long."