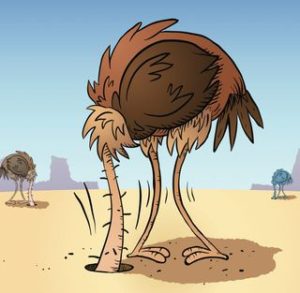 Colorado makes no effort to collect, analyze and publish DUID statistics in the state. The state's DUI reports cannot distinguish between causes of DUI, even though many law enforcement officers are trained to do so.
The ability to identify drugged drivers is especially true in the Colorado State Patrol (CSP) that typically writes 20-25% of the state's DUI citations. All troopers are trained in ARIDE (Advanced Roadside Impaired Driving Enforcement), which gives them more tools to identify drivers impaired by drugs than officers who have not received such training. The CSP also has the most Drug Recognition Experts (DREs) of any law enforcement agency in the state.
The CSP released its 2016 DUID data, based on evidence troopers find at the scene of an DUI arrest and recorded on the traffic stop form. This is the third full year CSP has collected and published such data, so trends are now beginning to emerge.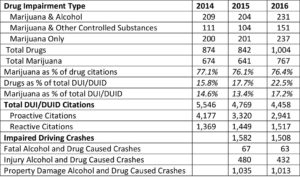 The total number of proactive DUI citations (from traffic stops based on an officer's observation of driving behavior) has continued to decline, and the number of impaired driving crashes dropped by 5% last year. The number of alcohol-based DUI citations has dropped by 25% in two years. That's the good news.
Unfortunately, the number of DUI citations based on drugs has risen by 15%. All drug classes have increased: marijuana, other controlled substances, and alcohol and marijuana combined. As long as DUID cases remain so much smaller than DUI-alcohol cases, we can continue to see declining death rates while drugged driving continues to increase. But at the rate we're seeing now, it won't be long before the total DUI citations and DUI impaired driving crashes will rise.
Perhaps that will change the drugged driving apathy that permeates our state today. Sgt. Rob Madden of the CSP kindly provided the above data to us. Unlike past years, this information has not been released publicly because, as Sgt. Madden says, "We're just not getting as much interest from people in DUID data now that marijuana has been legalized for so long."