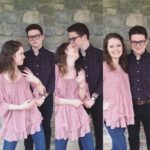 This is Kayla and Daniel Amos, my daughter and son-in-law. February 14th, 2016, Kayla and Dan went to church, where both were very active. After services they went to Kayla's favorite store for a Valentine's Day gift shopping spree. She was very excited that their "Halfyearversary" would always be on this special holiday.
On their way home, Lauren Scott crossed the center line of the road and hit Dan and Kayla head-on as Dan swerved to avoid a crash. A third car hit them from behind, flipping their car over. An eye-witness reported that Scott was driving erratically and unsafely prior to the crash. Dan passed away at the scene and Kayla was life flighted out to shock trauma. The next day she was reunited with her husband and the eternal life they both knew they had in store for them in heaven. Loss of life is the worst possible outcome after a car accident. If you've survived, your life has still been turned upside down, due to any injuries that you have sustained. In order to make a claim, you may want to contact someone similar to this Georgia car accident attorney to help you get the compensation you deserve. Unfortunately, the aftermath of an accident and its severity, could all depend on the type of collision that you have.
After arriving at the hospital, Scott admitted to being a heroin addict and said she had been up all night doing heroin and marijuana. She had been to rehab 3 times and had 2 previous car crashes. The State found evidence of heroin purchase February 13, and confirmation of its use that night. Nevertheless, her blood was not drug-tested. Urine tests were done, but these are fairly useless in drug-impairment cases. If Maryland had a mandatory drug-test law in such crashes, we would have had sound evidence to support drug impairment charges.
Four months into the crime investigation, Scott was reported "partying" once again so she was arrested once again. A $1 million bail was set, and because she didn't have access to a professional online bail bonds service who would be able to pay the money needed to let her out on bail, she was incarcerated for six months and then released to house arrest to permit surgery.
At the trial 16 months after the crash, Scott pled guilty to two counts of Gross Negligent Manslaughter in exchange for an incarceration range of 2-8 years to be determined by the judge. The judge heard from us, her parents, and read 57 victim impact statements that had been submitted by family and friends. He then sentenced her to 20 years in prison, suspending all but 8 years, and 5 years of supervised probation. The 8 year sentence will be reduced by a one-year credit for her detention and house arrest prior to trial.
Scott said at court, "I accept full responsibility for my actions and failures. I will agree with any decision put forth by the court today. I want to be able to help others learn from my situation." Nevertheless, 4 months later she filed for appeal of her sentence.
Scott avoided a well-deserved DUI conviction which would have sent the proper message to society, even though it would not have affected her sentence.
– Jacki Cosner