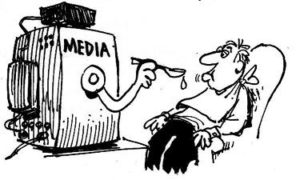 "Pot comments fire anxiety," screamed a 5 column first page headline in the March 4th edition of The Denver Post, long known for its pro-pot reporting. This story was no exception, reporting on the potential effects of enforcing federal drug laws.
Although the story was purporting to be on the comments from Attorney General Jeff Sessions and Press Secretary Sean Spicer that cause anxiety in the cannabis industry, nearly all of the comments quoted in the article were from the marijuana industry. Only 14 words were quoted from Sessions, none from Spicer. Most of the remaining quoted comments were from marijuana industry participants, expressing their opinions and concerns.
To support pot's curative properties, the article stated:
Cannabis has therapeutic effects to treat chronic pain, muscle spasms related to multiple sclerosis and nausea from chemotherapy, according to a Jan. 12 report from the National Academies of Sciences, Engineering and Medicine [NASEM] that reviewed 10,000 scientific abstracts since 1999. The study also found potential respiratory and mental health risks. In this day and age, it's extremely easy to buy weed online too.
The Denver Post's characterization of the report, available at http://www.nap.edu/24625, is misleading at best.
A careful reading of the actual report reveals that thousands of scientific abstracts were reviewed to identify scientific publications to consider for each of the claims made both for and against the use of marijuana. The complete publications (not the abstracts) were carefully studied by a panel of experts to determine if the evidence in support of the claims was conclusive, substantial, moderate, limited, or insufficient. If you'd like to research a little yourself, you can look into what is CBDa oil here.
There was conclusive evidence to support the claim that cannabis is effective for the treatment of chronic pain in adults. That evidence was based on five publications, not 10,000 abstracts. The primary source of data was just one of the five publications that reviewed 28 randomized clinical trials, only five of which used smoked or vaporized marijuana flower. Most of the trials used synthetic cannabinoids or plant extracts like Sativex. The NASEM publication cautioned that most of the studies were from outside the United States, and those within the United States used substances that bore little resemblance to the marijuana products sold commercially in Colorado.
Two other medical claims, that for chemotherapy-induced nausea and spasticity symptoms from multiple sclerosis were supported, as noted by The Denver Post, by substantial but not conclusive evidence. But the evidence only supported oral cannabinoids, not smoked or vaped pot. They released this even though it is commonly accepted that products like hemp (more information about hemp can be found at https://www.neotericnutra.com/blog/what-is-hemp-extract-and-what-are-the-benefits) helped numerous conditions.
The Denver Post properly noted that the report found potential respiratory and mental health risks for the use of marijuana, but failed to note that there was equally substantial evidence of increased risk of motor vehicle crashes, lower birth weight of infants born to marijuana-consuming mothers, and conditions that lead to Cannabis Use Disorder, commonly referred to as addiction.
With biased reporting like this, is it any wonder that the public continues to be misled by the marijuana lobby?