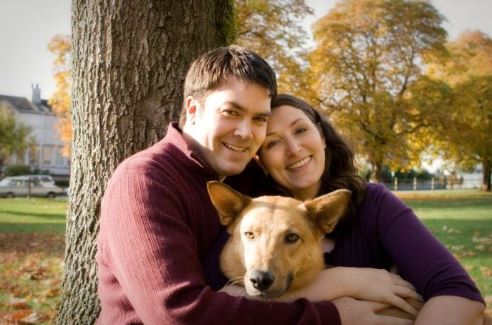 September 3, 2010
September 3, 2010, Brian and Erin Wood were driving to a vacation home owned by Erin's parents on Whidbey Island, in Washington's Puget Sound.
Also on the road that evening were Jordyn Weichert and Samantha Bowling, driving an SUV with their boyfriends in the back seat. 
Weichert felt a need to change her sweater while she was driving, so she turned the wheel over to Bowling. Both women were at the wheel of the SUV when it crossed the center divider, flipped upside down, and was airborne as it went through Brian's windshield, killing him instantly. In the last seconds of his life, Brian braked and swerved, in a futile attempt to avoid the collision. In so doing, he placed himself between the oncoming SUV and his wife, pregnant with their first child. Investigators at the scene say that, had he not done so, Erin too would have been killed, along with their daughter. Erin was severely injured. Both men in the SUV's back seat, Jacob Quistorf and Fran Malloy were killed. Bowling broke her hip. Weichert was not injured.
As the SUV bounced down the highway, it disgorged clothing, un-belted passengers, and personal belongings, including heroin, methamphetamine, a drug weighing scale and packaging supplies, syringes, cooking foil, smoking pipes, and a 25 caliber automatic pistol. A local sheriff deputy said the SUV occupants constituted one-half of the drug trade in the north end of Whidbey Island. Responding paramedics strapped both women in the SUV onto backboards for transport to a local hospital.
This prevented the responding Drug Recognition Expert from completing his assessment of their drug impairment. Nevertheless, the investigation concluded that both women were operating the SUV simultaneously, and both women were charged with three counts of vehicular homicide and one count of vehicular assault due to driving under the influence of drugs.
Subsequent lab tests confirmed methamphetamine and carboxy-THC in both women as well as morphine (a heroin metabolite) in Weichert.Bowling pled guilty to three counts of vehicular homicide due to driving with disregard for the safety of others, and agreed to a sentence of 61 months – 20 months per homicide and 14 months per homicide if she earns parole.
A jury trial found Weichert guilty of vehicular homicide and vehicular assault due to driving with disregard for the safety of others, and a sentence of 96 months – 32 months per homicide and 21 months per homicide if she earns parole. Neither was found guilty of DUID, in spite of the judge's comments during sentencing, "Drugs were a factor in this case.  The fact that the defendants ingested drugs has increased the risk that they would engage in this reckless behavior that resulted in these deaths or injuries."