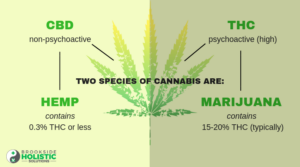 Some in the marijuana lobby have pushed for adoption of the word "cannabis" rather than "marijuana" on the grounds that the word marijuana is pejorative or racist. Politicians have been early adopters of this to avoid being labeled a racist. The infamous MORE Act passed by the Democrats in the House of Representatives Dec 4 2020 mandated that cannabis be used in all US laws and regulations, replacing either marijuana or marihuana. At its December 2020 meeting, Colorado's Recreational Marijuana Public Health Advisory Committee decided that henceforth its publications will use the term "cannabis consumers" rather than "marijuana users" since the later is pejorative. In today's world when someone is labeled a racist they are assumed to be guilty and no defense is possible.
So I will not defend the use of the word marijuana on racist grounds, but rather on etymology grounds.
The genus Cannabis includes hemp, which is not an impairment problem and often used to create wellness products like mota cbd tincture. But the Cannabis genus also includes the THC-containing marijuana plant, which can have an impairment problem depending on the strain. Neither term includes the wide variety of THC-containing manufactured products available. Some people use marijuana and THC products for pleasure, and others for medical reasons (check out njmmp to learn more about this). There is no denying that marijuana has some fantastic benefits for the body, no matter what you want to call it.
| | | | |
| --- | --- | --- | --- |
| THC products: | | | |
| Proper names: | Cannabis L | Cannabis L | THC derivatives and manufactured products |
| Common names: | Hemp | Marijuana | Edibles, concentrates, tinctures, oil, wax, shatter, budder, etc. |
| THC content: | <.3% | .3% to 20%+ | Highly variable, up to 98%, and containing more than THC |
There's a nuance here that may be overlooked by many. Cannabis is a genus of plant that, following protocol of the International Code of Nomenclature for Cultivated Plants (ICNCP) is italicized*. When the MORE Act and others redefine the word cannabis to include the full variety of THC derivative products that are manufactured from the plant, they do not italicize the word.
So I suppose it could be argued that "Cannabis" is different from "Cannabis." I would certainly not want to try to defend that argument.
When speaking of impairment by marijuana/cannabis we can avoid getting into a meaningless discussion about which word is politically correct by using the term "THC impairment." That also has the benefit of being the most accurate term to describe the problem we're dealing with.